Kathakali is the classical dance-drama of Kerala, South India, which dates from the 17th century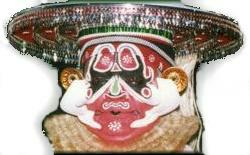 and is rooted in Hindu mythology. Kathakali has a unique combination of literature, music, painting, acting and dance. In the following pages we have placed photographs and videos of Kathakali performances and songs by famous Kathakali singers
For playing the video and audio you may need to install Real Player or Real Alternative. You can check the audio by listening to the Vandana Slokam (the first song at the starting of Kathakali performance) by clicking the PLAY button below:
The actors rely very heavily on hand gesture to convey the story. These hand gestures, known as mudra, are common through out much of classical Indian dance.
Kathakali ranks high among the Indian dance forms, since it is a dramatic performance in which, the actors do not speak or sing, but interpret their emotions through highly sensitive medium by its vivid and persuasive mudras, natural and impressive gestures, graceful and rhythmic movements, pleasing choreography and above all delightful wealth of imagery. It is not realistic art but belongs to the imaginative type spoken of in Bharata`s Natya Shastra. Kathakali is predominantly a male art and the dancing is mostly of the masculine type.
DAILY SHOW : 7PM TO 8PM